Reader Kelsey emailed me with a Quicken-related comment a few days ago. Buried in the middle of it was a question that intrigued me:
Categories I get, but there's these tag things … what would anybody even do with those?

Personally, for my household, I haven't really come up with a good use for tags in Quicken. To this point, categories have taken me everywhere I need to go. (I'm currently using Quicken 2010 Deluxe, and have reviewed it previously.)
Quicken Tags: What's the Point?
Basically, tags give Quicken users a way to "categorize" transactions outside of, and across, categories. I guess you could call tags a "second level" of categorizing goodness.
Suppose you wanted to sort of "sub-track" your grocery spending so that you could see how much of your grocery spending was attributable to unhealthy food. You could do something like this…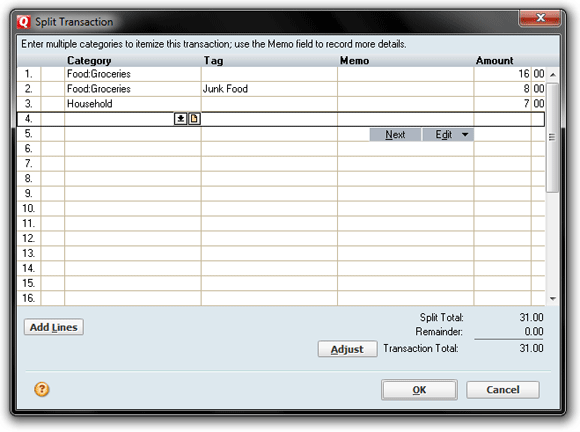 … and then run a report as necessary to see how much you've been spending on foods that will kill you. But in reality, such a usage of tags wouldn't be all that novel. After all, you could do the same thing with categories. Simply have a subcategory of "Junk Food" in your main "Grocery" category, and you'd be set.
However, say you wanted to track all your "Nonessential" spending. That's a "tag" that could span across categories because, after all, "nonessential" could apply to Groceries, Entertainment, House Repair & Remodel, and just about any other category you could think of.
So keeping an eye on "Nonessential" spending, via a tag named "Nonessential" or something similar, is more along the lines of what Quicken intended tags to accomplish.
Possible Use of Tags: Tracking Your BMF
One "big picture" idea for tag-use that comes to mind — but which I'd be way too lazy to implement — would apply to anyone who wanted to follow Elizabeth Warren's Balanced Money Formula, as described in her book All Your Worth (review).
Warren advocates that folks classify their outflows as one of three types: "Must-Haves," "Savings," and "Wants." Then track where your money's going, and aim for the following percentages:
I'm good with using those three "types" to track spending and saving, and to create a plan for such, but I'm a Certified Data Dork, too. I would also want to know what I was spending on, say, groceries, household consummables, mortgage debt, and so on.
So, in Quicken, I'd categorize my spending normally as regards the groceries, dining, and so on. But then I'd also give my spending "tags" of Must-Haves, Savings, and Wants as applicable. That way, I could quickly generate a Quicken report (utilizing those tags) to show me how my BMF-style money plan was working out.
Possible Use of Tags: Monitoring Use-Tax Expense
For a while, I really thought I could make great use of Quicken's tagging feature by assigning specific tags to my use-taxable online purchases throughout the year. By assigning a tag of something like "Use Tax" to all my online purchases on which I hadn't paid sales tax at the time of purchase, I could, at tax time, fire up a simple report and see how much I needed to remit in use taxes to my state's taxing authority.
In the end, though, I decided to treat my use-tax liability as what it really is — an ongoing "debt" that I owe to the state, and which I pay off in April of each year. So I accrue for it in its own Quicken liability account, as detailed in my Quicken: Handling Use Tax tutorial.
What Have You Made Tags Do?
I'm sure lots of people have put Quicken tags to work for them — I'm just not one of those folks. To date, I've been able to make categories do ALL my heavy lifting.
So what about you? Have you come up with a great use for Quicken tags that I've overlooked?