Reader MataDorG left a comment on my latest post discussing tags in Quicken, asking how to make the tag field appear in the Quicken register. Apparently, his/her version of Quicken (2010 Home & Business, in this case) wasn't showing the tag field at all.
The "tags" feature is one which can be turned off and on in Quicken. When tags are enabled, the "tag" field should appear appear in the register, like so…

If that's not the case, then head up to your Quicken menubar to turn the feature on.
Activating Tags in Quicken
In the menubar, select EDIT → PREFERENCES → QUICKEN PREFERENCES. This should bring up a separate window. In the left section of that window, select REGISTER, as shown below.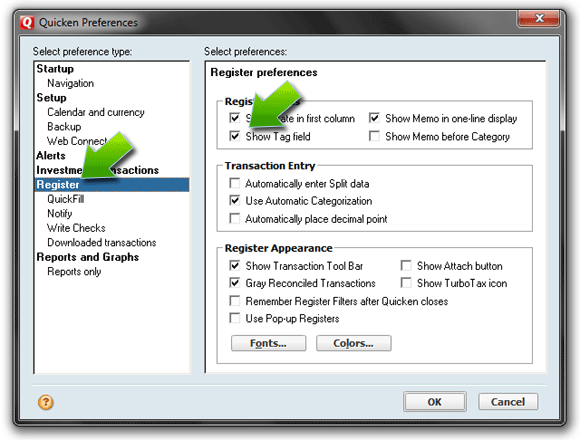 Now put a checkmark in the box labeled "Show Tag field." Finally, click the OK button.
That should do it. Tags should now be available in your Quicken account registers!