It was mid-January when I pushed Quicken Deluxe 2010 aside, and upgraded to Quicken Deluxe 2013. Thirty or forty minutes in, and I already had a bad feeling that this particular upgrade wasn't going to be one that made me smile.
I've been a devout Quicken user since the 1990s, with upgrades done typically every two or three years. It was Quicken Deluxe 2010's "In / Out / What's Left" feature …

… which finally allowed me to break away entirely from keeping separate budgets in Excel. I couldn't tell whether this tool was still around in Quicken Deluxe 2013, as the packaging didn't show it, but I went ahead and took the leap. Hope and prayer, and all that.
"In / Out / What's Left" Is Still There
Yes, the "In/Out/What's Left" chart is still in Quicken 2013 Deluxe, but it doesn't show by default (as it did in 2010). Plus it's pretty well hidden. It took me several weeks of sorta/kinda searching to figure this out. I will say that, until I found the darn thing, I was a sad, sad man whenever it came time to fire up Quicken and punch in some transactions.
To get the "In/Out/What's Left" view to appear on your Home desktop:
HOME tab → Home button → Customize button → in "Available Items" window, scroll down to Planning section → select "In/Out/What's Left" → click ADD.
See? Just like that, I had my beloved "What's Left" cash-flow tool back, and all was right with the world.
Kind of.
Quicken's Budgeting Tool Gets Another Look
I've stated in the past that Quicken's budgeting features are miserable. Up to this point, if readers ever emailed me, asking for my opinions on budgeting tools, I'd inevitably point them toward Excel ("Make your own budgeting spreadsheet, or use one of mine") or YNAB.
It appears that Intuit really tried to revamp their budgeting tools in Deluxe 2013, which was a fine idea. The fact that I can see a year's worth of spending and budgets at once is quite lovely: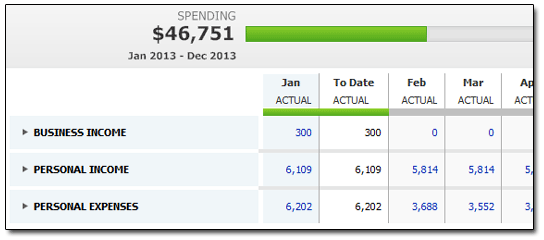 And by "lovely," I mean it's a good thing to see an annual budget breakdown once you've spent hours upon hours getting Quicken tweaked to show things correctly. Because if you don't, you'll find yourself and your budget in some time-warp, federal-government "minus equals plus and red means overspending and red is good" bizzaro money world.
So yes, I still assert that YNAB's budget setups make Quicken's look, sound, and smell like utter crap. But in this arena, any progress (for Intuit) is good progress.
Sadly, even with the revamp, I still can't say much for Quicken's budgeting prowess overall.
Clunky, Clunky, Clunky
Much like a pissed-off porcupine, Quicken's budget is hard to handle. Selecting categories to include in your budget is a serious time-sink, for one thing.
It's worth noting here that Quicken's budget can and will start right from Penny One of your previously set up paychecks. So if you're one of those dorks who, like me, tracks your income from its pretax levels, all the way down through taxes, deductions, and everything else, you're going to have a jolly ol' time slogging through this as it relates to your budget(s).
How do I know? Because I spent weeks kludging my way to what I already knew was my baseline "available to budget" amount, all because Quicken was applying my 401k employer-match amounts to the expense side of the budgeting ledger (because I want transfers to my 401k to count as a budgeting outflow) … but it wouldn't count the initial employer-match "income" on the income side of things. Thus my "Remaining to Budget" amount appeared smaller than it really was. And figuring out why it refused to count the income was perfectly maddening.
Turns out that, to rectify this, I had to figure out how Quicken was categorizing the employer-match money behind the scenes — and "_401 Employer Contrib" is the correct answer, kids. Then, for this category to even be made available in your budget, you have to checkmark "Show hidden categories" at the very bottom of the "Select Categories to Budget" form.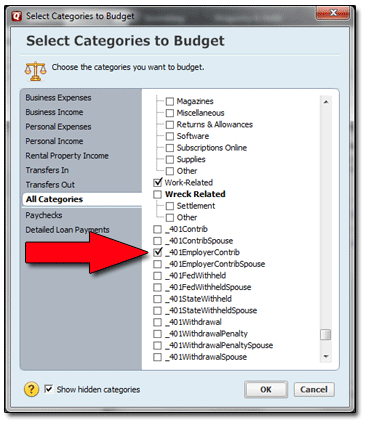 And of course, because it would make NO SENSE WHATSOEVER to place "_401 Employer Contrib" in the "Personal Income" category group, you have to spend time scrolling through roughly 4,267,184 other categories in the "All Categories" group to find "_401 Employer Contrib" way down near the bottom of the list.
Egads.
Well, at least now, after several weeks, I've got Quicken's budget set up to at least show me good "actual" spending numbers. I haven't even approached the "budget" inputs yet. Should I desire to plan our income and spending months in advance, I think Quicken can make it happen. The question is: What Quicken budget idiosyncrasies have I not yet discovered? You just know there'll be more.
Only time will tell.