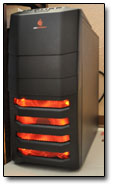 Well, I've encountered my first hardware failure with my aforementioned desktop computer build.
Last weekend the PC began experiencing random BSOD (Blue Screen of Death) errors in Windows 7 — sometimes during 'net surfing, sometimes during gaming, and sometimes watching YouTube vids.
Suspecting a possible software issue because I'd recently installed a couple of things, I set about completing a Win7 restore operation. No go — restores would not complete.
Next check: hard-drive testing. Windows' CHKDSK took a while, but completed normally.
And then: RAM testing. Rut ro … Windows' memory testing application quickly reported back that the RAM had errors.
Turning to the 'net for a bit of guidance, I performed a more thorough RAM test with Memtest86. With both Corsair RAM sticks installed, Memtest returned thousands and thousands of errors.
I removed one stick and retested — no problems.
Swapped that stick out for the other, and retested. Result: quadzillions of errors.
So there you go: One of my two Corsair 4g RAM sticks has crapped out ofter just over a month of use. I'll be replacing the pair of RAM cards with a pair of 4gb sticks
from Kingston. (I've had good luck with Crucial in the past, but Kingston can be had with free 2-day shipping thru Amazon Prime … and I do loves me some Amazon Prime.)