Back in January, I wrote a post about how I handle Paypal transactions in Quickbooks. A reader inquired as to how I handle Paypal refunds in Quickbooks, so here's a quick run-through. Grab some popcorn, kids.
Quickbooks And Credit Memos
Since Quickbooks won't allow us to record a negative-amount sales receipt or invoice, we have to create a Credit Memo when we need to issue a refund.
For the purposes of this lesson, let's assume I need to refund in full the sales receipt (pdf) I showed in my previous post. On it, customer Mary McDoodle bought a $9.95 Kafluder valve, purchased via Paypal. Accounting-wise, I absorbed the 59-cent Paypal fee inside the same receipt, setting it up as an "Other Charge" in Quickbooks. This way, the total of the sales receipt reflected exactly what I saw when I looked at the transaction in my Paypal account; i.e., a net income of $9.36: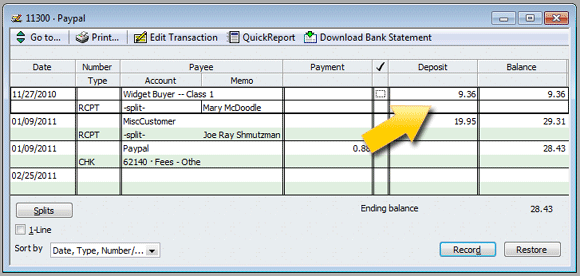 Now I need to refund Ms. McDoodle. Here's how it's done.
Step 1: Set Up a Credit Memo

On my Quickbooks desktop, I'll click the "Refunds & Credits" icon. (You could also get to this by clicking CUSTOMERS in the menubar, and then selecting CREATE CREDIT MEMOS/REFUNDS from the dropdown menu.)
This opens up a new Credit Memo form. It'll look much like any other sales-receipt or invoice form you might see in Quickbooks.
Once the Credit Memo form is open, fill it out so that it matches the receipt or invoice you're refunding. In other words, enter the same items, in the same quantities, at the same prices. This includes the Paypal fee "Other Charge" item, if you're entering them inside each receipt the way I do.
Let's take a quick look back at how I entered Ms. McDoodle's initial sales receipt: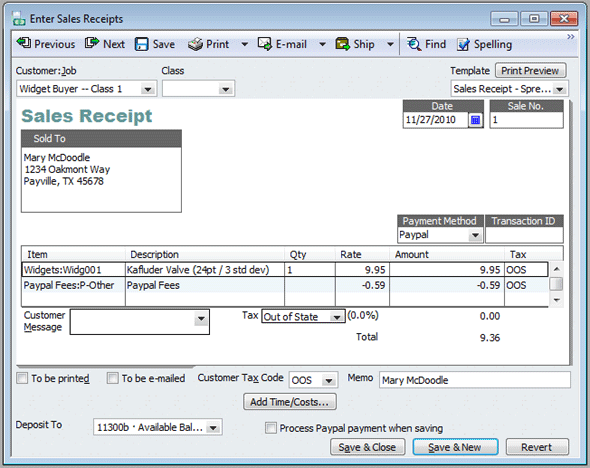 And its accompanying Transaction Journal:

Now for the Credit Memo. Here's how it will look: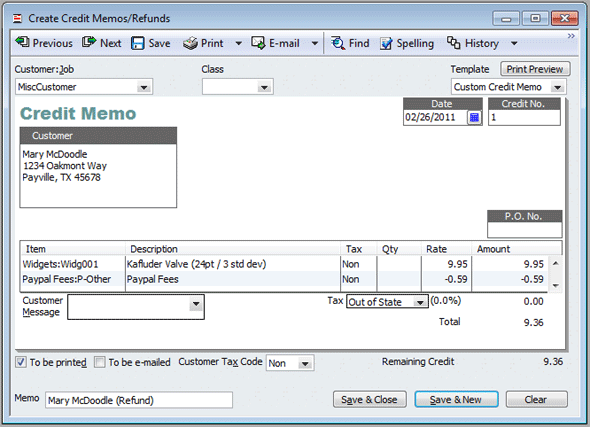 Note that I entered the same Items, quantities, and amounts in the Credit Memo as I did in the sales receipt. The Paypal fee is there because Paypal refunds it to me (the seller) when I process the refund in Paypal's system, which I'll do manually, outside of Quickbooks.
When I save the Memo, Quickbook basically "reverses" what's on it. At least, that's how I think of it!
Step 2: Apply the Credit Memo
So we've created Ms. McDoodle's Credit Memo. Note that nowhere in the Credit Memo form does Quickbooks ask us for the posting account (as it does in sales receipts). That's because we could do different things with Credit Memos; we could:
Allow the customer to "retain" the available credit for later use;
Give a refund; or
Apply the credit to an invoice.
When we save/close the Memo, Quickbooks automatically asks which of these options we want to perform. In our case, since we're refunding the customer via our Paypal account, we're going to opt to give a refund: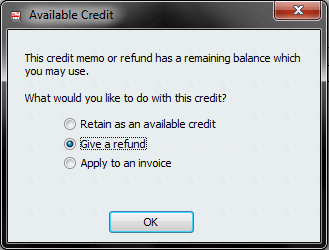 After that, Quickbooks' "Issue a Refund" window appears: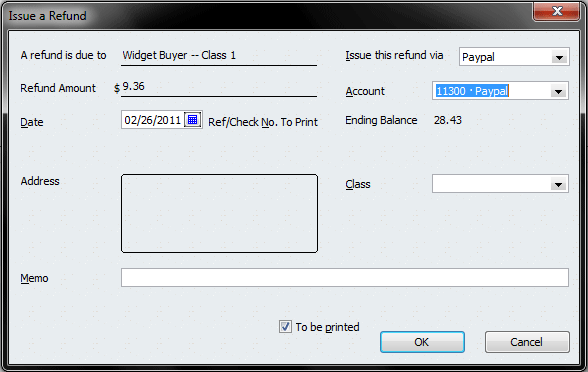 And right there is where we'll select the account for the refund to come from — which is our Paypal account. One more click of the OK button, and the refund is posted. My Paypal account register shows: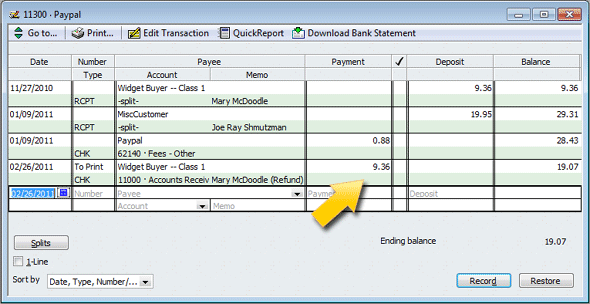 And that's it — we're all done with posting the Paypal refund in Quickbooks!