Over the years, Intuit has added lots of tools to Quicken — mostly, I would argue, to encourage its users to adapt an annual upgrade cycle of the software. While I adore Quicken for its performance at tracking accounts, spending, and net worth, I find myself using very few of the additional tools that its Deluxe and Premium versions offer. (As of this post, I'm using Quicken 2010 Deluxe.)
One such tool — brought to my attention by an email a few months back — is Quicken's Cash Flow Forecast. It's meant to help with long-range (say, a year out or more) cashflow planning. Quicken's Help Files explain it like this:
For long term forecasting use Quicken's Cash Flow Forecast feature. A cash flow forecast lets you project your cash flow for the future, based on scheduled bills and deposits and estimated amounts. Quicken can forecast your spending patterns for up to two years, and displays your account balances in a graph.
You can get to the Cash Flow Forecast via the menubar:
PLANNING → CASH FLOW FORECAST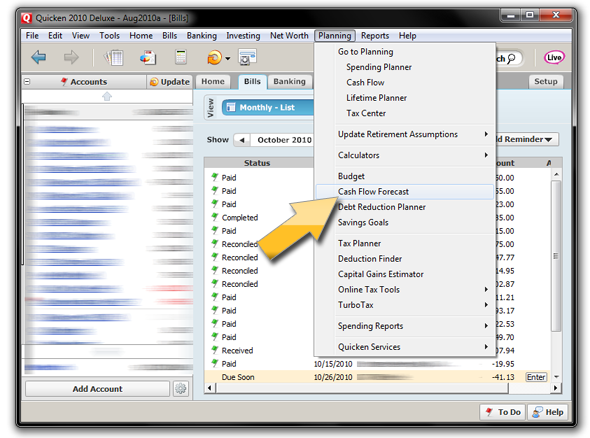 When I select that, Quicken displays a graph like this: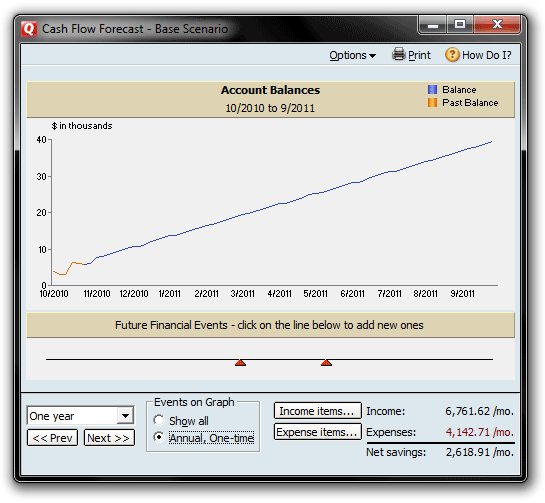 That awfully smooth, upward-sloping line is meant to show me how my bank-account balances will steadily increase over the next year IF my monthly "Income Items" and "Expense Items" meet the parameters I've set up. (Displayed figures above have been certified by the Congressional Budget Office. So you know they're, uh, reliable.)
Forecasting: It's a Lot of Work
The graph is all fine and dandy, I suppose. However, it took me a patience-testing hour or so to get Quicken's Cash Flow Forecast set up in a way that'd reflect anything close to reality. Initially, Quicken's "brain" had taken my next year's worth of Scheduled Transactions, combined it with my average monthly categorized income and expenses, and applied all of that to my household financial cash flow in a manner that I can only describe as MADDENINGLY RANDOM.
Some "income items" appeared twice. Many "expense items" appeared three and four times. Now, I'm all for conservative planning, but come on. Those initial figures were a disaster, and way out of whack.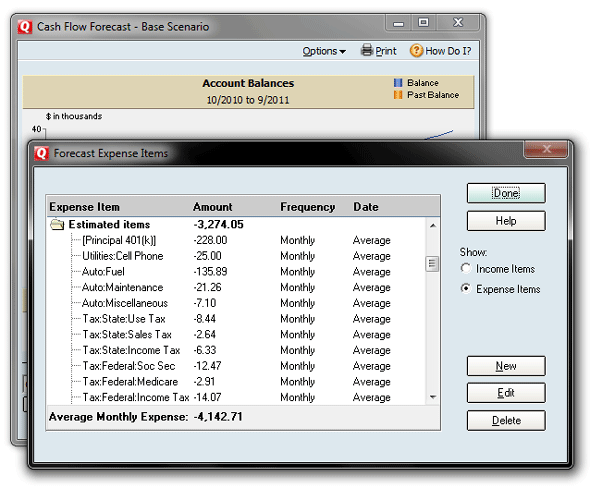 I can't imagine that any large chunk of Quicken users would be willing to plow through their incomes and expenses, category by category, Scheduled Transaction by Scheduled Transaction, just to get this thing running at a somewhat realistic clip. I did it, but only because I'm a money dork. The rest of you probably have lives.
Just Start Over?
The Cash Flow Forecast allows you to create and save different scenarios, which is probably pretty useful IF you have a few hours to kill. I wasn't even willing to approach this feature, given what it took just to get the thing set up. (When making changes, income and expense items aren't even listed in alphabetical order, for crying out loud. Who the hell came up with this?)
I think that, if I were going to rely on the Cash Flow Forecast at all, I would start by scrapping ALL of the estimated items Quicken creates. I'd then simply enter the categories I wanted, by hand, starting with my largest categories (taxes, food, insurance, etc.) first. I'd likely keep the "Known Items," as Quicken creates these from Scheduled Transactions, which ought to be fairly ironclad. (Ironclad, that is, IF you're good about setting up all your recurring transactions as "Scheduled Transactions.")
Like a lot of Quicken "tool" offerings, there's probably some value in the Cash Flow Forecast … but if you're like me, it might take you so long to rebuild the Forecast data that you simply ignore it altogether.
Sorry, Intuit. I'm opting instead for dumping a few months' of Quicken report data into Excel, and working from there!