Now this is some encouraging news … if you enjoy financial distress.
If we're to believe CareerBuilder's survey of 4,500 U.S. workers — and I don't really have a great reason not to — then roughly 77 percent of us describe ourselves as living paycheck to paycheck:
CareerBuilder: Nearly 8 in 10 Living Paycheck to Paycheck
From the article:
Nearly eight-in-ten (77 percent) workers report that they live paycheck to paycheck to make ends meet. Sixty-one percent of workers said that they felt they lived paycheck to paycheck to make ends meet in 2009. Workers went on to say that sometimes they are unable to make ends meet at all, with one-in-five (22 percent) saying they have missed payments on bills in the last year.
Ouch. Earlier this year, I mentioned that more and more $100k workers were living paycheck to paycheck, too.
For those of you who like charts, here's one with a bit more data from the CareerBuilder survey: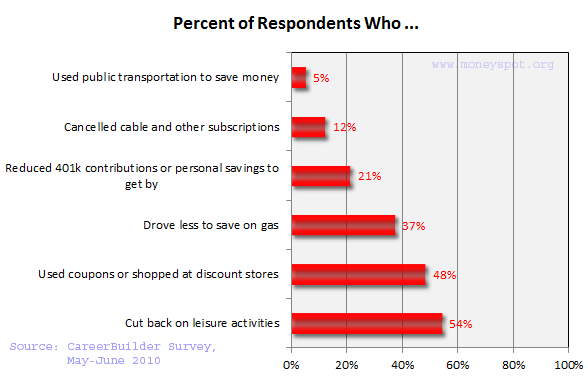 Pretty great, ain't it, that more people were willing to dip into savings and retirement accounts than were willing to cancel their cable TV and other subscriptions. What the hell are people thinking?
And since I've already got Excel open, I might as well update this running chart while I'm at it: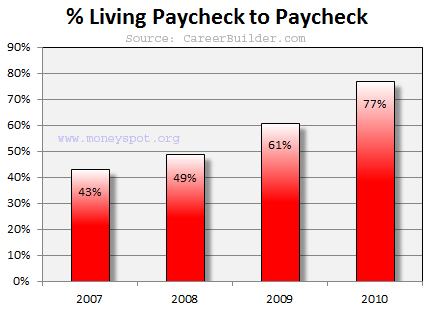 If you're interested in comparisons, I covered last year's CareerBuilder survey here.