This past week, I replaced my laptop (a 5-year-old Dell Inspiron) with a fresh 'n' shiny Toshiba Satellite A665-S6050.
Inherent in this upgrade was my switchover from Windows XP Home, which I loved, to Windows 7 Professional, for which I don't yet have a verdict.
(No, I never so much as bothered with Vista. In fact, a couple of years ago, I purchased a second Dell laptop for my wife. My first out-of-the-box change? Wipe the hard drive and its Vista operating system, and replace it with a clean, non-OEM-cluttered full version of XP Home.)
However, based on something I just discovered, Windows 7 just got big bonus points in my book. If you're a power user of the calculator in Windows, as I am, you just gotta love this revamp: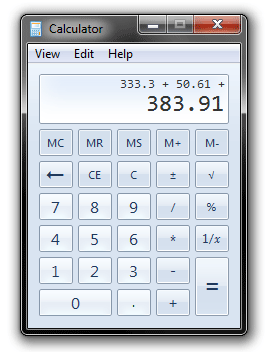 Giggity.
And yes, I am a complete dork.