Ready for a trip back in time? If so, grab a copy of Kiplinger's Simply Money. And get ready to see 1995 all over again.
I reviewed Simply Money back in 2006 after receiving a free copy in the mail. The program takes you back, for sure. If you're looking for financial-software simplicity — and don't give a flip how it looks on your computer screen — then Simply Money is your huckleberry.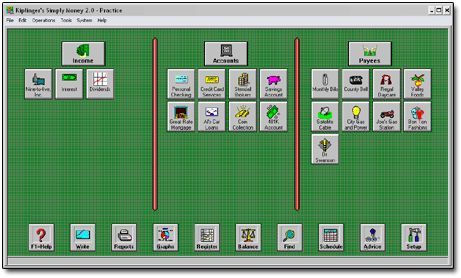 However, there may now be an issue for those folks who use Windows 7. As noted by reader Dick, via email:
I found your article on the subject through Google. I've used this software since 1993 (latest version is 2.08, 1995) and have found it to be most useful. I just (inadvertently) moved up to a 64-bit Dell desktop running Windows 7 and the software will not load (even though it was fine through Windows 3.1, 95, 98, and XP). Do you know of any patch or fix that will let me continue to run my old friend? I'd really hate to move to Quicken or one of those other packages with the unnecessary bells and whistles.
Well, if we're to believe what we read at SimplyMedia.com, Simply Money doesn't appear to play well with 64-bit systems. They write that a new version/patch is in the works…
[Simply Money] Works on Vista up to 32 Bit. 64 Bit Vista not stable enough yet. Stay tuned for that improvement from Microsoft–and then from us with Simply Money to be compatible with their 64 bit Vista.
I'm not sure exactly when 64-bit Vista hit the ground, but it's been a while. And now we have 64-bit Windows 7 out there … and still (apparently) no fix for Kiplinger's Simply Money to make it usable on such systems. The same site has a small tech support page for Simply Money, but alas, no answers are to be found there, either.
In any case, Simply Money still deserves a place in my list of Quicken alternatives, but for those of you who are using 64-bit operating systems, you may (for now) wish to look elsewhere.