During an early-evening visit to our corner grocery store a few evenings ago, I snapped this pic: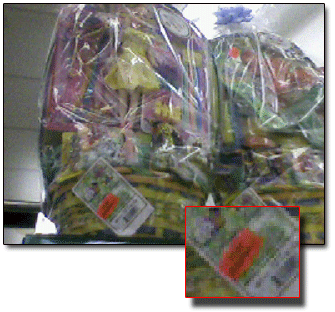 Anybody care to guess what that bright orange stamp says?
If you said "FOOD STAMPABLE," you were correct.
That's right, Oklahomans: This Easter season, feel free to use your food-stamp ("Access Oklahoma") card to buy a crappy plastic basket full of crappy plastic grass, a crappy plastic doll, and a few packages of crappy colored sugar crappiness.
Pretty neat, given that a record-high 450,057 Oklahomans were enrolled in the food stamp program as of March.
Should be enough to cause any maker of crappy plastic Easter baskets to become downright giddy at the thought of this untapped market segment.
Because I'm the curious sort, I surfed to the Oklahoma Department of Human Services website to see what sort of guidelines applied to food-stamp use. Here's a snippet from the FAQ page:
A person may buy only eligible foods with their food stamp benefits. Eligible foods include plants and seeds that can be used to grow food. You cannot buy the following items with food stamp benefits:
Paper goods
Cleaning products
Household items
Personal care items like toothpaste
Alcoholic beverages
Tobacco products
Vitamins or medicine
Foods prepared to be eaten in the store
Hot food prepared in the store to be "carried out" and eaten
Hmmm. Nothing in there about Easter baskets.
I don't know about you, but I have a big problem with my state allowing their oh-so-gracious $3.40/day (thanks for that recent bump, Stimulus Fairies!) of public food assistance to be used to buy fringe "food" items like Easter baskets.
Who knew the Easter bunny needed public assistance?