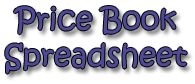 Price Book Spreadsheet
| | |
| --- | --- |
| Price: | Free! |
| File Type(s): | Excel Spreadsheet (.xls); Excel 2007 Spreadsheet (.xlsx); OpenOffice Document (.ods) |
| File Size: | 216kb (.ZIP file) |
| Last Update: | November, 2009 |
| Current Version: | 2.0 |
| Macros: | None. |
Those of you who want to keep a "price book" of grocery prices and such in Excel ... well, all I can say is, "You're nuts."
But regardless of that, you're still in luck!
My Price Book spreadsheet has been around for a long time, but at a user's suggestion, I recently revamped it a bit. This version of the Price Book contains columns for "Group" and "Store" so that your data can be sorted by these variables, as well as by the more-common ones like price and size.
But most importantly, the Price Book can still serve as a database of sorts — one in which you can easily track prices of the things you most commonly purchase. And when you know products' prices from a variety of stores, you'll also know which store's sales are really a good deal! (You can also read my "Price Books and Lunches" article from 2005 if you'd like a little better picture of how such a price book might be used.)
The screenshot below shows the Price Book spreadsheet in all its glory (which, honestly, ain't much):

There's a "Sample" page in the spreadsheet, complete with fictional data, so you can get a feel for what goes where. After that are three blank worksheets, just waiting for all the price and product data you can drag up. As always, the Price Book spreadsheet is NOT password-protected, so you can modify it to your shopping heart's content.
Download my Price Book Spreadsheet below:
I tried to keep the spreadsheet as simple as possible. However, a few more words of guidance might be in order.
Spreadsheet Versions
When you extract the ZIP file, you'll actually find three spreadsheets. One is for Excel 2007 (.xlsx). Another is for Excel 97 through Excel 2003 (.xls). The third version is for OpenOffice (.ods).
Simply use the spreadsheet that's appropriate for the program you use.
Questions? Comments? Contact Me!
As always, if you've got a question or issue, don't hesitate to drop me a line. I'll get back to you as soon as possible!