FNBO Direct Online Savings Account™
Based In:
Omaha, NE (First National Bank of Omaha)
Bank ABA Routing #:
104000016
Customer Service:
(877) 370-3707
Minimum Deposit to Open:
$1
Minimum Balance
to Avoid Fees:
None
Website:
FNBO Direct

With interest rates on the floor lately, FNBO Direct has gained some traction against the bigger, more well-known online banks. And if you're one of the eighty-six people in the U.S. who actually have some savings, you'll want to get acquainted with FNBO Direct.
FNBO Direct is the online branch of the First National Bank of Omaha — a bricks 'n' mortar operation that's been doing its thing in America's heartland since 1857. (Yes, Virginia, they did have banks back then.)
According to its website, FNBO is now the largest private banking company in the U.S.. They and their affiliates hold over $20 billion in managed assets and they employee more than 7,500 folks in 35 states. That's a pretty decent sphere of influence, if you ask me.
FNBO Direct: Features & Facts
To say that FNBO Direct's web presence is "simple" would be an overstatement. If you're looking for OSA (Online Savings Account) frills, you're better off heading for ING Direct (my personal fave) or HSBC Advance.
On the other hand, if you just want a savings account that pays better interest than most, then FNBO Direct is worthy of a look.
Let's take a look at what FNBO Direct's Online Savings Account offers us:
FDIC Insured?
Yes, very much so.
No fees; no minimum balances.
Like most online savings accounts, there's no fee to open an FNBO Direct OSA. There's also no minimum balance requirement.
Multiple Accounts w/Nicknames
FNBO allows you to open multiple accounts, assigning your own nicknames to each if you choose. Use mutiple accounts to save for different goals: vacations, your next car, and so on.
Ability to Set Up Recurring Deposits
Like any self-respecting OSA these days, you can schedule recurring deposits into your FNBO Direct Online Savings Account.
Utilize POPMoney™ to Send Money to Others
Can't tell you much about this, as I've never tried it ... and don't really need it!
And a few other vitals:
Bank ABA Routing Number:
104000016
Max # Linked External Accounts:
3
Max # Transfers Per Statement Cycle:
6
Minimum to Open:
$1
Max Withdrawal Amt. Per Day:
$100,000
Avg. Transfer Time:
2-3 business days
Account Terms & Disclosures
For those of you who read such things, here's a PDF of FNBO Direct's online savings account disclosures:
FNBO Direct OSA Disclosures (Updated 2010-02)
And the always-popular Terms and Conditions (44 pages of YAWN):
FNBO Direct Terms & Conditions (Updated 2010-02)
Appearance: Prepare to Be Underwhelmed
There is nothing — and I mean nothing — pretty about FNBO Direct's web interface. Here, for instance, is the "Account Summary" page. It's the first thing you see once you've logged in: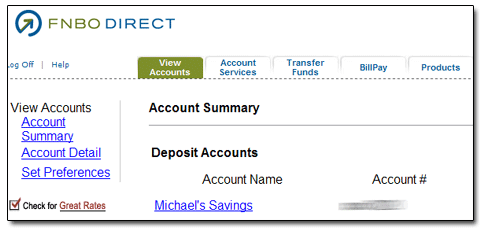 If that leaves you feeling like you got sucked into a time warp back to 1997, well, you're not alone.
And FNBO's entire web presence looks like that.
So the question you have to ask is:
What matters more — the rate I'm being paid, or the appearance of the web page?
Adding External Accounts
FNBO Direct allows you to "link" up to three external (i.e., located at other banks) accounts to your FNBO account. Once that's done, you can transfer funds back and forth as necessary.
The account-adding process is pretty standard: You enter the RTN and account number of your external account, and FNBO sends two trial deposits to that account. When the deposits arrive, you'll return to FNBO's site and enter the trial amounts to verify your ownership of the account.
In this regard, FNBO Direct is pretty speedy. When I've added "linked" accounts to FNBO, the trial deposits have arrived in my other accounts the very next day, making account verification about as expedient as it can be.
Removing linked accounts — should you ever need to do it — is even faster. It's takes all of about two clicks to remove a linked external account. (Oh, if we could just get rid of politicians this easily.)
Summary
You'll find absoultely NO snap, sparkle, or pizazz with FNBO Direct. They're about as plain as plain can get. For most savers, though, I suspect that the rate their money is earning is more important than the eye candy with which they're greeted at log-in.
Thus far, FNBO Direct's rates have stayed about .20 to .30 percent higher than those of the "big name" online banks. On this basis alone, they likely merit a try from savers who, in a world often devoid of yield, couldn't care less about a bunch of ho-hum online extras.
Those folks are looking for yield, baby. Yield. And FNBO Direct offers just a little bit more of that.
Michael • Updated December, 2017
Ratings are on a scale of 1 to 5, with 5 being the top ranking.
Initiation:
Is it easy to open an account?
Adaptability:
Do they adequately adjust interest rates over time?
Usage:
Is its usage intuitive?
Is it efficient in function?
Are transactions processed quickly?