Sallie Mae® Online Savings Account
Based In:
Murray, UT // Carol Stream, IL
Bank ABA Routing #:
124385119
Customer Service:
(877) 346-2756
Minimum Deposit to Open:
$0
Minimum Balance
to Avoid Fees:
None
Website:
Sallie Mae Savings Account

So apparently Sallie Mae isn't just for student loans anymore.
I'll admit to being fairly surprised when I discovered that Sallie Mae, the company to whom I made many, many student-loan payments in the 1990s, had branched out into regular bank-dom in October, 2005. (That was a good year, I should add. Why? Because it just so happened to be the year I paid off my Sallie Mae loans, too.)
Sallie Mae: Facts & Features
If you're familiar with Sallie Mae, chances are it's due to their student-loan programs. This, as mentioned above, was certainly the case with me. My experience with them, in my 15+ years of remitting their monthly loan coupons, was just fine. However, just cruise the 'net: The horror stories regarding SLM-handled student loans are numerous and often NASTY.
On the other hand, if you just want a savings account that pays better interest than most, then Sallie Mae is worthy of a look. It certainly doesn't hurt that Sallie Mae earned a spot as Best Online Savings Account from Kiplinger's Personal Finance "Best Of Everything 2010" issue.
Let's take a look at what Sallie Mae's Online Savings Account offers:
FDIC Insured?
Sho 'nuff. Please tell me you're not going to even consider an account that isn't!
Upromise Bonus
Sallie Mae's High-Yield Savings allows Upromise members to earn an additional 10 percent return on your Upromise earnings ... and to have this bonus automatically deposited into your Sallie Mae savings account each year. More below!
No fees; no minimum balances.
Like most online savings accounts, there's no fee to open an Sallie Mae OSA. There's also no minimum balance requirement.
Easily Open (and Nickname) Multiple Accounts
Sallie Mae Bank allows you to open multiple accounts from within your initial account. You could use mutiple accounts to save for different goals: vacations, your next car, and so on. You can also assign nicknames to accounts as you see fit.)
Ability to Set Up Recurring Deposits
You can easily set up automatic, recurring deposits into your Sallie Mae High-Yield Savings.
Invest in CDs
Sallie Mae also offers 12-, 36-, and 60-month CDs at competitive rates.
And a few other vitals:
Bank ABA Routing Number:
124385119
Max # Linked External Accounts:
???
Max # Transfers Per Statement Cycle:
6
Minimum to Open:
$0
Avg. Transfer Time:
2-3 business days
The Upromise Bonus
Sallie Mae offers its Online Savings Account holders a couple of nice bonuses if they're also Upromise members.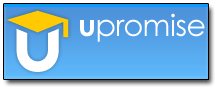 First, Sallie Mae offers "Upromise Monthly Transfer" in which members can automatically transfer their Upromise earnings (minimum amount $10) to their Sallie Mae savings account. (Note that your Upromise account must be "linked" with your Sallie Mae savings account electronically.)
Second, Sallie Mae offers a "Upromise Annual Match" benefit. It's set up like this:
The Upromise annual match will be 10% of your total annual Upromise earnings and identified as "funded" in your Upromise account during a given calendar year of January 1 through December 31. For example, if in 2010, you earned $100 in your Upromise account and this amount is identified as "funded," you are eligible for a $10 Upromise earnings match. The Upromise annual match benefit may be cancelled or changed at any time without notice. Upromise earnings will post directly into your Upromise account each February following the calendar year's activity provided that both accounts are in good standing. The Upromise annual match will occur once per year.
There are some stipulations, however:
To be eligible for the 10% annual match on your Upromise earnings from Upromise you must link your High-Yield Savings Account to your Upromise Account and, within 90 days of opening your High-Yield Savings Account, either: (1) set up an Automatic Savings Plan with a monthly deposit of $25 or more, or (2) fund the account with $5,000 or more. Upromise will match 10% of your Upromise earnings posted as "funded" to your Upromise Account during the calendar year of January 1 through December 31. Your 10% annual match will be deposited into your High-Yield Savings Account in February of the following year provided that both accounts remain active and are in good standing at the time of transfer.
Opening the Account
It took me about ten minutes, give or take, to open my Sallie Mae High-Yield Savings account.
You'll need to have your driver's license handy. The same goes for any joint account holders you wish to add to the account. You'll provide the standard bank-account opening info (name, address, and so on) and answer a few multiple-choice questions derived from info that Sallie Mae finds on your credit report.
I opened my account late on a Friday night. Sallie Mae's two trial deposits showed up in my linked checking account the following Tuesday morning. Returning to my Sallie Mae savings account to verify the deposit amounts was a simple and straightforward matter.
Appearance: Middle o' the Road
Sallie Mae's savings account has a web interface that's ... well, pretty standard. I've seen better (think ING Direct) and I've seen worse (think FNBO Direct).
Here's Sallie Mae's splash screen. This is what you'll see when you first log in:

The blue bubble tabs look kind of neat, I guess. Aside from that, there's ... well, there's lots of space.
Here's a view of the page where you'll set up withdrawals and deposits (i.e., transfers to/from your linked accounts):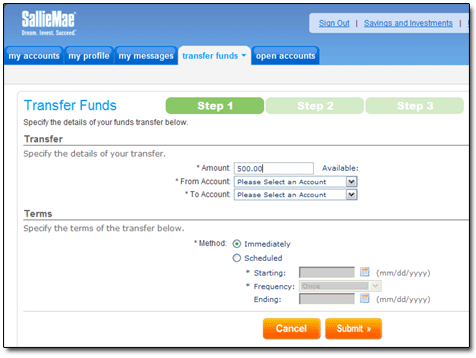 It's a decent web presence, I supppose. But nothing special. Then again — who's gonna be looking at it all the time, anyway?
Adding External Accounts
I'll enter more details on this aspect of Sallie Mae's Online Savings once I've added a couple more accounts. (Only have my initial linked checking account so far!)
Summary
As of this writing, there are two items that differentiate Sallie Mae's High-Yield Savings Account from similar web-based savings accounts: SLM's higher-than-many-banks interest rate, and their Upromise savings bonus.
If you're a big Upromise earner, then having a Sallie Mae Savings Account is probably a no-brainer. A ten percent bonus could be pretty substantial over time. (Remember that it could be discontinued at any time.)
Aside from those items, there's not much to set Sallie Mae's Online Savings apart from the multitude of others out there. Those of you who are looking for more features in an online-banking setup will certainly be happier with ING Direct's Orange Savings or Electric Orange checking, or possibly with HSBC Advance.
Still, if Sallie Mae is willing to keep its rates competitive over time, there's no reason to exclude them from your savings plan. We just won't know if this is the case or not until some time passes.
From what I've seen, the Sallie Mae High-Yield Savings account seems to be a sturdy, no-frills choice.
Michael • Updated December, 2017
Ratings are on a scale of 1 to 5, with 5 being the top ranking.
Initiation:
Is it easy to open an account?
Adaptability:
Do they adequately adjust interest rates over time?
Usage:
Is its usage intuitive?
Is it efficient in function?
Are transactions processed quickly?