ING DIRECT: Orange Savings Account™
Based In:
Delaware (ING Bank)
Bank RTN:
031176110
Minimum to Open:
None
Customer Service:
800-464-3473 || 8am - 8pm EST
Minimum Balance
to Avoid Fees:
None
Website:
ING DIRECT
I guess, if you wanted to skip my lengthy review below, you could just get by with this:
Since 2003, ING DIRECT has done more good for my household finances than any other bank has done over the span of my entire life.
It isn't ING's higher-than-average interest rates, really, that had this effect — though I'm surely not going to complain about them. Instead, it's ING DIRECT's "differentness" that has made them my favorite bank, online or otherwise. And it was ING's online Orange Savings account that got me (and so many others!) started.
Comparable online savings accounts have popped up all over the place now, of course. Most every large bank has gotten into the act. But each of them owes a debt to ING DIRECT. Why?
Because much of the popularity of online savings accounts ("OSAs," for short) can be traced back to the effective marketing efforts — and always-on-target execution — of ING DIRECT.
For thousands of 'net-savvy people who've outgrown their piggy banks, ING DIRECT is a godsend. They came along in late 2000 and offered a product that was destined for viral notoriety ... if not outright online greatness.
Their online savings account — they call it their "Orange Savings Account" — provides a way for most everyone to tuck away short-term savings in a very liquid account and still earn a return that's much better than your average bank or credit-union savings account. Your money isn't tied up for months, either. Typically, at any given time, your cash is a mere few business days away.
Interested in a Video Tour?
It occurs to me that some folks might like to take a look around ING's Orange Savings web interface before jumping in.
• VIDEO TOUR •
Wanna see for yourself?
View my Flash video review:
ING DIRECT Video Tour
(640x480 / 13+ minutes)
With this in mind, I spent a few hours putting together a simple and (I hope!) comprehensive "video tour" of ING Direct's Orange Savings Account. (Hey, it was a pretty slow Saturday at my house!)
It's in the Flash format, and a little over 13 minutes long. Just click the hyperlink in the box at the right to check it out. (It'll open in a new window.)
ING DIRECT: Yeah, They're Different
Here's the first great thing about ING: Their online savings pays a decent rate AND exists without fees or minimums. And there aren't any of the other small-print tricks that banks have made famous (or infamous, I guess, to be more correct).
Right about now you should be thinking, "Okay ... so what are these guys up to? No fees? No minimums? That can't be right."
But it IS right. And yes, they ARE up to something. (Up to about 10 times the deposited funds of their nearest competitor, at last check.)
But that's how it is at ING DIRECT. They're built a little ... differently.
Starting Up With ING DIRECT
ING Direct is the standard that everyone wishes other banks were. They are the ones who can be thanked for the online savings craze and for all the other banks that have recently joined and that are offering higher rates to get market share.
— Matt1, from FatWallet
Finance Message Boards
Okay: I have opened a ton of online savings accounts. And of those accounts, ING DIRECT's Orange Savings was the easiest to open up and get started.
And where other money-minded folks ("rate chasers" is the tag I'd give them) have packed up most of their funds and moved to higher-interest institutions, I've kept my ING account going simply because of its wonderful ease of use. If you're into Freedom Accounts, then you and ING should get along fabulously.
I opened up my first ING savings account in 2003. If I remember correctly, it took about 10 minutes to complete the online application. Then I waited a few days, confirmed the test deposits ING made into my account, and everything was good to go.
I've referred dozens of friends and relatives to ING DIRECT since then. As of November 2009, I've never heard of a single problem or delay from any of them, regarding any part of ING DIRECT's performance. And as online-bank signups go, ING's process has proven itself to be the gold — er, orange standard.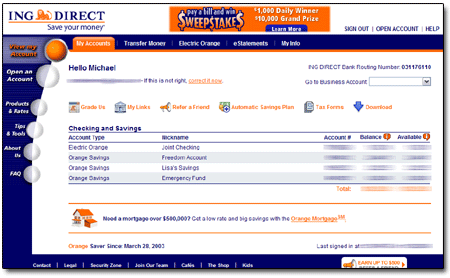 Go Orange: ING DIRECT Features
What ING's online savings account misses in interest-rate regalia, it tries to make up for in nifty features.
Slick interface.
Let's face it: Everything about ING's setup just looks cool. The font is cool; the buttons are cool; the colors are cool. And it's all clear and intuitive. Buttons and controls are labeled descriptively. You won't be wondering what does what!


Ability to create subaccounts.
More on this below!


Ability to earn referral income. People love ING for lots of reasons — not least among them the fact that once you have an ING DIRECT Orange Savings account, you can refer up to 25 friends and family members, earning up to $250 for yourself ($10 per referral) when they open ING accounts.


Displays a running total of "Interest Earned This Month."
Well, it's no big deal, really. But it's neat. No more waiting 'til the start of next month to see how much money your money made this month!


Easily set up Automatic (Scheduled) Deposits and Direct Deposit.
Most every online account can do this now. ING certainly isn't alone in this respect. But it's worth mentioning.


Link up to 3 external accounts.
Electronically "connect" your ING account to up to three other accounts. Move funds back and forth between them with a few clicks ... and a little patience.


FDIC insured?
You betcha.


Download transactions into Quicken or MS Money.
But I don't know how well this works, because I've never tried it.


Open accounts for minors.
ING allows you to open Orange Savings accounts for your children and/or other minors. The minor can be the primary account holder, but there must be a joint account holder (who isn't a minor). I set up an account for my 3-year-old daughter, using my wife as the joint owner and her checking account as the linked account. Since my wife was already an ING customer, the process was a snap!


What's Important? SAFETY!
As noted above, your accounts at ING DIRECT are FDIC insured. In an economy where a few banks are having a wee bit o' difficulty at times, FDIC coverage is, obviously, a big deal.
But if you've been paying attention to the news lately, credit-market turmoil is a constant headline. The words "subprime mortgage" and "mortgage security" are all over the place — and with some very dire predictions out there, it's nice when your bank sends you an email like this one: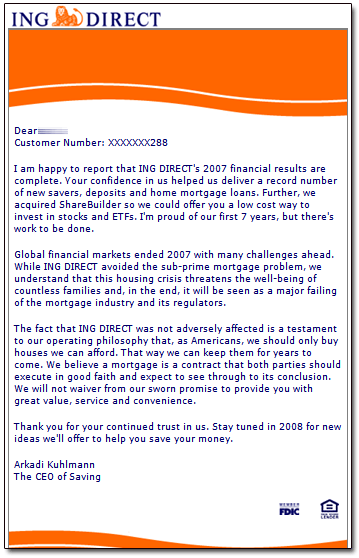 Personally, that third paragraph leaves me feeling all warm 'n' fuzzy inside. Seriously.
It just makes me that much happier that, as of 2008, I've selected them as my "main" banking institution — meaning that between my Orange Savings account and Electric Orange checking account, they now have the vast majority of my month-to-month banking business.
Creating Subaccounts is a Snap!
I'm not aware of any other online savings account that allows you to do this. Actually, everyone calls them "subaccounts," but in the ING world, what you're really doing — once you've opened the first account — is opening more accounts. Each one will have its own account number, and you can give each ING account its own nickname. Mine, for instance, are called "Freedom Account" and "Emergency Fund."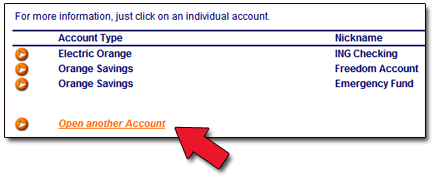 As shown above, when you have multiple ING accounts, they all show up on the same page. And once you're an ING Direct customer, then opening a new ING account for yourself takes all of ... oh, about one minute. For a few more details on this ING DIRECT feature, see my "Related Articles" box at the bottom of this page, and follow the link to FiveCentNickel's helpful article.
Got CDs?
Another nice thing about ING Direct: You can easily buy Certificates of Deposit (CDs) with terms of anywhere from six to sixty months. Once you've opened the Orange Savings account, moving money from it into a CD is a snap.
Privacy Is Good
I care about privacy. I suspect you do, too. ING takes its customers' privacy seriously, as illustrated by this email snippet I received:
Did you know our Privacy Policy EXCEEDS government standards? In 1999, Congress passed a law requiring financial institutions to give Customers the ability to "Opt-out" of information sharing. At ING DIRECT we went the extra mile to provide you with an "Opt-in" Privacy Policy, which means we won't share your information with any other company or partner unless you ask us to.
Perfect. The law passed by Congress was okay and all ... but I like ING's plan better.
Bright Spots Newsletter
Opening an ING Direct savings account means you also get a subscription to ING's monthly newsletter, Bright Spots. For a taste of what you'll find in Bright Spots, here's the April 2008 issue.
Monthly eStatements
Your ING monthly statements are usually available anywhere from five to eight days into the following month. You'll receive an email from ING when the statement is ready for you. At that point, just log into your account and download the eStatement in PDF format.

I'd show you a sample eStatement of my own ... but there's just a wee bit too much personal info on those things!
Got Business Savings?
Hey small-business owners: If you open an "Orange for Business" savings account at ING Direct — which is, as you might have guessed, ING's savings offering for business customers — and you also have a personal Orange Savings account, then you can move directly from one account to the other by virtue of a drop-down menu on your ING account summary page. In other words, you can move back 'n' forth between both accounts seamlessly — no logging out and logging back in to the other account.
ING can do this because your customer number is the same for your Orange Savings and Electric Checking accounts as it is for your Orange Business Savings account. This change took effect, as best I can tell, on May 5, 2008. That's the first time I noticed the drop-down box: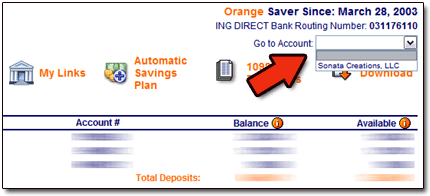 ING DIRECT Orange Savings Notes & Caveats
• If you're the sort of person who needs constant contact with a bank representative, then ING DIRECT probably isn't for you. They're notorious for closing the accounts of "high maintenance" customers who called the Customer Service 800-number one too many times.
• Under the "My Links" tab, where you'd go to see the accounts to which your ING DIRECT savings is electronically linked, you'll find the following text: The account you would like to link must be a checking account. That's funny. Why? Because my ING account is linked to my Emigrant Direct account, and the ED account is most certainly not a checking account. How'd I manage this? Simple. I just logged into my Emigrant account, initiated a transfer from there to my ING account, and next thing I know, the money has moved . . . and my Emigrant account is magically linked to ING from ING's interface.
• Some blog commenters have noted that ING's website is slow. I've never noticed this. Or, at least, I've never noticed that ING's site is any slower than any other bank's.
Summary
The simple fact is that ING DIRECT's Orange Savings Account is the biggest, most well-known online account out there. ING's rates tend to hold just a notch below their competitors' rates. Thus, if you're a "rate chaser" at heart, you'll likely want to look elsewhere.
Also, as fabulous as the Orange Savings account is, if you're interested in extras like check writing and ATM cards, you'll definitely want to take a look at ING's Electric Orange checking account, too. (Here's my Electric Orange review.)
What ING has provided up to now is great stability and service. Theirs is a recognized name. What they do, they do really well. If you're new to the online savings account idea, then I'd highly recommend ING. It's a fantastic place to start saving — right now!
Michael • Updated November, 2011
Ratings are on a scale of 1 to 5, with 5 being the top ranking.
Initiation:
Is it easy to open an account?
Adaptability:
Do they adequately adjust interest rates over time?
Usage:
Is its usage intuitive?
Is it efficient in function?
Are transactions processed quickly?
Update • July 22, 2008:
A reader named Dawn emailed to let me know a couple of other positives in ING's favor:
"When I did needed to speak to a live person," she told me, "they spoke and understood English. Plus they've never made a mistake on my accounts. I cannot say that for any other bank."
Very accurate observations, Dawn! I agree one hundred percent with both of them; in fact, the only time I've ever had to phone ING — which was a three-way call on behalf of a family member — the contact went splendidly. Thanks very much for the email!
Update • Feb. 23, 2008:
Now that I've also opened an ING Electric Orange (review) checking account, I'm pleased with the setup. As noted earlier, our Orange Savings account serves as our Freedom Account, so when it's time to buy, say, birthday or wedding gifts — which I budget for and save in our Freedom Account — the transfer from savings to our Electric Orange account is instantaneous. Very nice.
Once you're an ING Direct customer, it's a breeze to open multiple Orange Savings accounts. So if you're also an Electric Orange checking user like me, you'd be nuts not to use Orange Savings for your Freedom Account savings. In my humble opinion, of course!
Update • April 10, 2007:
I continue to be impressed with ING DIRECT's Orange Savings Account. Transactions have been absolutely flawless — no hiccups whatsoever — since Day One, and processing time matches that of Emigrant Direct (review) and all the other online entities I've used.
To be fair, ING DIRECT has all but given up leading the online-savings-account pack. That is the only area in which I could say they've slipped. But let's be realistic: They're THE Big Dog in online banks, and they don't have to resort to doing the things to bring in customers that other banks might. Besides, ING's rates still abuse most brick 'n' mortar bank and credit union savings accounts.
Now that ING also offers an interest-bearing checking account ("Electric Orange"), I'm pretty much ready to open one of those, too. My experience with ING's Orange Savings has been tremendous. Really. And now I'm super-curious to see the features, presentation, and limitations (you know there'll be some) of Electric Orange. (Update: I now have an Electric Orange review as well.)