Well, July 2009 is gone. Which means another "cash only" month is in the books for the IYM household.
For those readers who might be new to this blog miniseries, my household has moved to (largely) cash-only spending for the three-month period of June, July, and August 2009. Previous to this little experiment, we paid for most everything with no-fee, cash-back credit cards. (As per my
"How We Manage Our Money"
post, we don't carry balances ... EVER.)
The idea here? I want to see how much less we spend when we spend only cash. Actually, in the two months we've been on this cash-only kick, we've actually used debit cards a handful of times as well. But greenbacks have been the payment mode of preference, since I want to make the spending feel as "immediate" as possible.
For simplicity's sake, I've picked seven every-month spending categories to watch closely during this experiment.
Why Not Total Spending?
I don't pay much attention to our overall total monthly spending when looking for cash-only results. The reason? The "grand total spent" doesn't tell the true story of cash-only versus plastic, because any one month can have irregular but necessary expenses — like
backyard fence replacements
— which have nothing to do with whether we spend cash or not.
Results: Cash-Only in July
So here's how our spending in July (cash only) compared to the average monthly spending in March, April, and May (when we paid with plastic):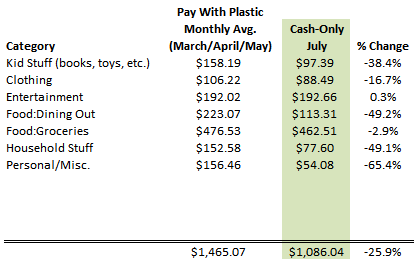 Results: Two Months of Cash-Only (June & July Averaged)
And here's one that's even more interesting to me. In this chart, I've averaged our cash-only spending months (June/July) and compared it to March/April/May: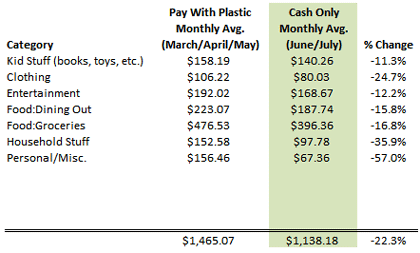 Wowsers. More than a twenty-two percent decrease in spending across these common categories.
The old maxim, "When you spend cash, you spend less!" sure appears to be holding up. One month to go!
Labels: Credit Cards, Spending