Boy. You'd think that I'd be over this by now.
Regret, I mean. The kind you feel (or I do, at least) when we complete a month in which we had to dip into savings. The kind you feel when you see your monthly cash flow finish in the red.
That was July for us. Thanks to an $1,850 backyard fence replacement, our liquid-savings funds took a thousand-dollar dump.
At the end of June, our savings progress looked like so: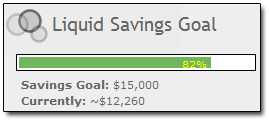 Then, at the end of July: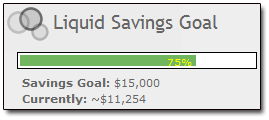 Bleh. I'm a guy who likes to "always move forward." When I finish a month in the red ... well, unless you're the government, that ain't "forward." To me, it feels like wholesale failure. This, even though such things are the reason we build up savings!
I'm not sure why, but this $1k drop in savings sure seems to feel worse than the $6k expense when we paid cash to
replace our central A/C system
.
I'll say this, though: Not having to look into my neighbor's
forest
backyard while I'm grilling ... or mowing ... or just sitting on the patio ... is awfully nice!