I've been getting a lot of type-in traffic lately from my abbreviated domains (www.moneyspot.org and www.moneymusings.com), so I figured this would be an opportune time to beg folks to subscribe to my feed.
Well, maybe not "beg." Perhaps just "ask nicely."
No, really. Feed syndication is a great thing for folks like me who love to read blogs and news items. Get yourself a feed reader (it isn't hard), then find the feeds you want to keep up with (again, not hard), and add your selected feeds to your feed reader. Boom — you're all set! Whenever your chosen bloggers and writers add new content, you'll know about it almost instantly.
1. Get a feed reader.
Personally, I'm a big fan and user of
Bloglines
. It's free, web-based, and easy-to-use, even for a simpleton like me. But if Bloglines isn't to your liking, you can take your pick from a huge assortment of available feed readers. The About.com article entitled
"Top 10 Windows RSS Readers and News Aggregators"
is a great place to start.
And now, ultra-popular services like Google (Google Reader), Yahoo! (My Yahoo!), and MSN (My MSN) allow you to add feeds to your personalized home pages and such. You can log-in to these services to check your email — and see the latest posts from your favorite bloggers at the same time. Way too cool, huh?
If you don't already have a feed reader, or at least a service that allows you to subscribe to feeds, then get one. Really. Get one now.
2. Find some good writers, or your favorite topics from preferred sites, and grab their related feeds.
Obviously, I love to read personal finance blogs, so I keep an extensive
personal finance blogroll
. However, on my My Yahoo! page, I also subscribe to topical feeds from places like Bankrate.com and
USA Today
, like this: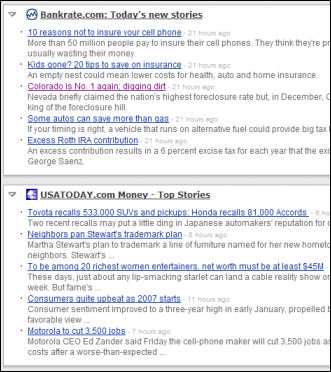 Once you find the feeds you wish to subscribe to, you just have to . . ..
3. Add selected feeds to your reader.
Like web sites, every feed has its own URL. They might look like any of the URLs below:
http://www.mdmproofing.com/iym/weblog/feedlot/
(That's mine!)
http://www.whateversite.com/feed/sitefeed.xml (Not real!)
http://www.whateversite.com/rss/blogfeed.rss (Not real!)
And sometimes folks put their feed URL behind an icon like this:

Subscribe to Money Musings!
So, in the case of Money Musings, you can simply:
1. Copy 'n' paste my feed's URL ...
http://www.mdmproofing.com/iym/weblog/feedlot/
into your feed reader; or ...
2. Right click the
Money Musings feed hyperlink
, select "Copy Shortcut," and paste the URL into your feed reader; or ...
3. Alternately, you can go the lazy, one-click route: Find your selected feed reader in the buttons shown on the right, and simply click that button to add my Money Musings feed to your reader.
See? So easy, George W. could do it.
Well ... maybe not that easy.