No, not
me
. That'd be weird. However, this young Prosper borrower is looking for assistance:
Prosper Listing: Help Me Look My Best...
And this is her fourth listing (2 withdrawn, 1 expired previously) in her quest for more-expansive ... tracts of land, to borrow a Monty Python-ism. If the listing has expired by the time you read this post, here are a couple of screenshots:
Screenshot #1
•
Screenshot #2
This is why folks (like me) who enjoy behavioral finance, and watching people interact with their money overall, really get a kick out of Prosper. Where else would we have the opportunity to see people showcase their money issues and personal foibles like this?
It's sort of like Reality TV, but with finances.
My Prosper Update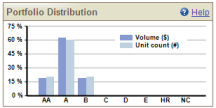 As of the end of 2006, my small-scale Prosper lending adventure is
in the red
.
I've been a participating lender in a total of six loans, one of which defaulted in December. The five remaining loans are all current, with an average interest rate of 9.7%. (The defaulted borrower was B-rated, FWIW.)
My initial investment in Prosper was $300. Right now my account value stands at ~$277. Cash makes up roughly $67 of that, so I'm watching Prosper listings again for suitable loans.
Labels: Odd 'n' Fun, Prosper