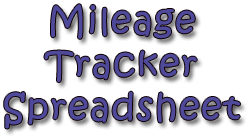 Mileage Tracker Spreadsheet
| | |
| --- | --- |
| Price: | Perfectly Free! |
| File Type(s): | Excel Spreadsheet Template (.xlt) |
| File Size: | 137kb (.ZIP file) |
| Last Update: | 2008-03-23 |
| Current Version: | 2.0 |
| Macros: | None. |
For some reason, in 2005 I decided to track the mileage of our two household vehicles. There were no business-expense implications; it simply seemed like a neat use of Excel, as well as a good idea.
And it became a habit.
This isn't the exact spreadsheet I use these days — this one's much more well-suited for public consumption — but it's close.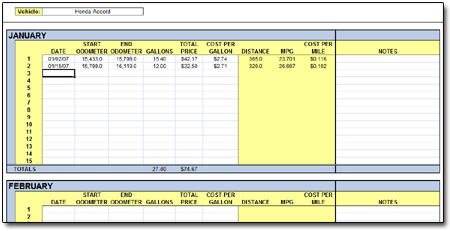 I've set up the spreadsheets to download as a ZIP file. Inside the ZIP file are are two versions of the Mileage Tracker: One uses the standard measurement system I'm so familiar with (miles and gallons), and the other uses the metric system (kilometres and litres). You can grab the file below:
Own More than Two Vehicles?
Need More Worksheets?
The spreadsheet comes with two blank Mileage Tracker worksheets — one worksheet for each vehicle, if you own two. If you have more than two vehicles to track (it happens!), you'll want to expand the spreadsheet and make multiple copies of a blank worksheet.
Not sure how to make copies of the blank worksheet? It's easy!
Right-click a blank worksheet.

Select "Move or Copy."

Highlight "(move to end)" and place a checkmark in "Create a copy."

Click OK.
That should do it. You now have another blank worksheet!
Entering Transactions
I'm hoping that data entry in this spreadsheet is self-explanatory.
DATE: Enter the date you filled up the tank.
START ODOMETER: Enter the mileage at which you began tracking.
END ODOMETER: Enter the mileage at which you fueled up.
GALLONS (LITRES): Enter the total amount of fuel installed.
TOTAL PRICE: Enter the total cost of fuel installed.
COST PER GALLON (LITRE): Self-explanatory.
NOTES: Just a place to enter notes, if necessary.
Questions? Comments? Contact Me!
Got a question or issue? Don't hesitate — drop me a line. I'll get back to you as soon as possible!