When I was a kid, a hundred dollars was a whole lot of money. Heck — my very first paycheck was only sixty-something bucks. I remember going out to the garage to show it to my dad, and telling him how surprised I was for the paycheck to be THAT MUCH.
My, how times keep changing. This, the tab from our last Sunday afternoon of August, 2008: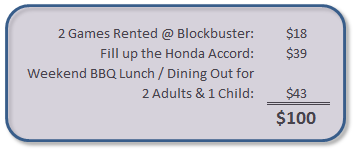 A hundred bucks — gone in sixty minutes.
Good thing inflation is only
five percent or so
, while the
most popular online savings account
pays a
mere three percent
.
That, kids, is what's called a
losing battle.
But you still gotta fight it.