My last post talked a bit about Quicken 2008 Deluxe and why I think it's the
best Quicken yet
.
I don't want to give the impression, however, that there's nothing "useful" left for the Intuit folks to implement in Quicken. (We all know how adept they are at implementing features of negligible day-to-day value.) If they asked (and they haven't), I'd suggest that they look into...
Subaccounts!
Eventually, the complexity of the small-biz side of my financial life prompted me to drop
Quicken 2006 Home & Business
in favor Quickbooks 2007.
One thing which Quickbooks allows — and Quicken does not — is the creation of subaccounts. For instance, at one point last month, my Quickbooks sidebar displayed this: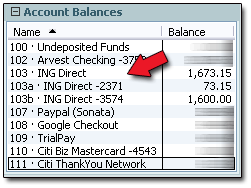 Notice that my ING "Orange for Business" savings account (account #103 in Quickbooks) is split into two separate subaccounts. One (103b) is for holding my accrued estimated taxes, and the other (103a) is for ... well, for whatever's left over.
This is an awfully nice feature to have, I think. I'd
love
to see it implemented in Quicken — and in a manner which allows the subaccounts to show up on Quicken's desktop (namely, in the "Accounts" sidebar). But for whatever reason, the kids at Intuit haven't seen fit to grant my wish.
Over the years, I've seen a pretty fair amount of requests for this particular feature. The fact that Intuit programmers still haven't implemented it makes me wonder if there's something about Quicken's software engine that makes it super difficult, if not impossible, to pull off.
Labels: Quicken