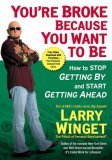 Over at the main site, I've reviewed Larry Winget's newest book:
If you're tired of hearing about government bailouts and more lenient bankruptcy laws, then you'll get a kick out of
You're Broke Because You Want to Be
.
People sucking it up, taking responsibility, and fixing their own mistakes?
Wow. That'll never fly.
Labels: Book Reviews