Step 1: Preheat oven to 450f.


Step 2: Open oven. Insert damp Sunday newspaper.


Step 3: Close oven.


Step 4: Forget about newspaper.


Step 5: Go shopping.


No, I didn't do this. But apparently someone has. Because the second page of the operating manual for our new oven has this as a warning bullet: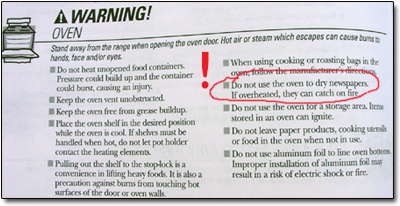 I file this under the category of
Surely No One Would Think to Publish This as a Warning Unless Someone Had Actually Done It.
Look — I dislike damp newspapers just as much as the next newsreader. I mean, you spend the cash for your subscription to the
Sunday Oklahoman
, or
Dallas Morning News
, or whatever, and you'd like the thing to show up on your driveway at least mostly dry.
But put a damp newspaper in the oven to dry it out? Are you serious?
I've been known to do some Dumb Stuff in my life, but I would've
never
considered such an idea unless I'd read it there in the oven's Operating Manual.
It rather begs the question:
Would folks who are likely to dry newspapers in ovens be the same ones to ever even read the operating manual in the first place?
Labels: Odd 'n' Fun