I'm not sure I really needed another online bank account, but what the heck — I've signed up anyway.
I'm now an owner of a Capital One Direct Banking High Yield Money Market Account. (Say that five times fast ... then read my fully-detailed
Capital One Money Market review
.)
As of today, the Capital One Money Market account's current interest rate is very competitive with other large banks' online accounts. I've been having a great time "test driving" all these online bank accounts, and I figured it wouldn't be fair of me to leave out Capital One.
Way back when, before I started using only credit cards that paid me cash back, I used to really like my Capital One No-Hassle Visa. It wasn't so much that the card did anything special for me; rather, I just
really
liked their online interface. It was so darn clean and simple — way better than what I saw from the Chases and Citibanks of the world.
With Capital One, making payments (and doing pretty much anything else) was a snap. I don't know why, but the layout really made sense to me, and I liked it.
I guess I was hoping that their Direct Banking setup would be the same. I was pleasantly surprised. Here's a quick glimpse of their interface: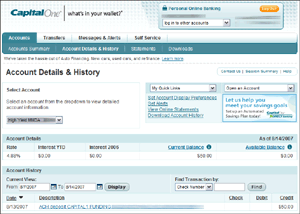 As has become standard with online accounts, the Capital One Direct Banking Money Market has no fees, no minimum balance, and easy account-to-account transfers. Unlike some other online savings accounts, though, Capital One goes a bit farther and offers free checks and an ATM card
*
.
As for transfer times, so far I've only moved money
into
my Capital One Money Market account. That initial transfer left my bank account on Thursday and appeared in my Capital One account the following Tuesday. I'll be testing out times on withdrawals later this week and next.
Unless I find something about this account that I really dislike, I believe I'm going to stick with it for a while. I know some folks out there just despise Capital One, but all my experiences with them to date have been just peachy.
Let's see how it goes now that I'm letting them handle a bit of my non-credit-related banking activities, too.
*
Note that federal regulations limit this account to six withdrawals per calendar month, three of which may be by check.
Labels: Banking