Even the most devoted of my readers probably would be hard-pressed to remember my previous encounter with bathroom-faucet installation:
Home Repairs: The Double-Up Rule
That one didn't go so smoothly. It drowned more than three hours of my time, plus $177 of my money. Sixty bucks of that went toward having someone who knew what he was doing come out and fix what I'd screwed up.
But I'm not usually one to back down from a small challenge. (Put it off, maybe, but eventually I'll get around to facing it.) So when our
other
bathroom's vanity faucet suddenly stopped working a couple of weeks ago (a plastic valve mechanism inside it had worn away to little more than jelly), I knew what I had to do:
Wait a few weeks, build up my courage, and then replace the darn thing. Or attempt to.
The Purchase
Well, as it turns out, I had a leftover Lowe's gift card to use up anyway. As far as appearance and operation, I really like the Moen I installed the last time (see above). But the pain of that install — not that it was any fault of Moen's — unnerved me a bit. So this time I bought a nice single-handle, smooth-moving Price Pfister faucet for $58. That's $10 less than what I'd paid for the Moen.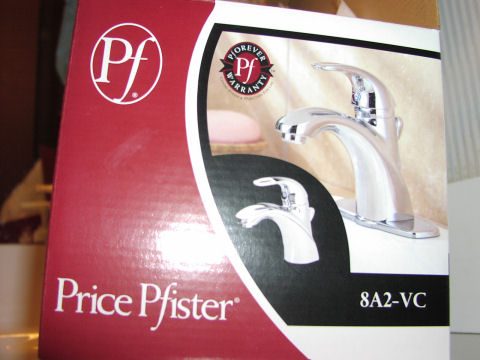 The Install
Today, Sunday, was the big day. I'd put off the faucet replacement long enough.
Guess what? It took me all of one hour. And that's with my 3-year-old daughter "helping" me work.
And so far — four hours after I finished — I haven't spotted a leak anywhere.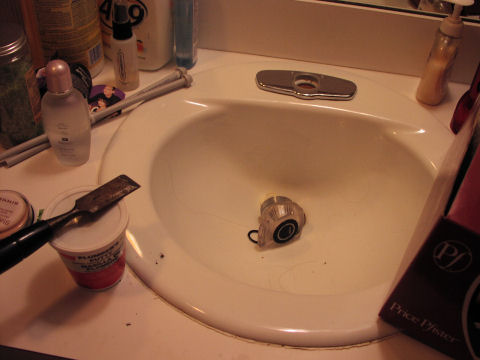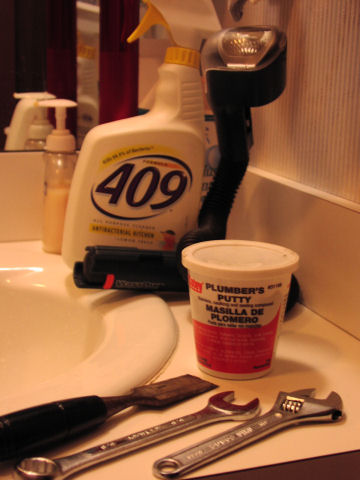 I'll go ahead and say that the finished product looks pretty okay: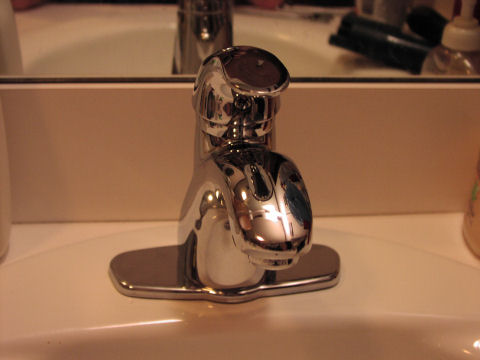 Not that I'm absolutely sure of my plumbing workmanship just yet. I figure it's worth checking back tomorrow to make sure there are no leaks: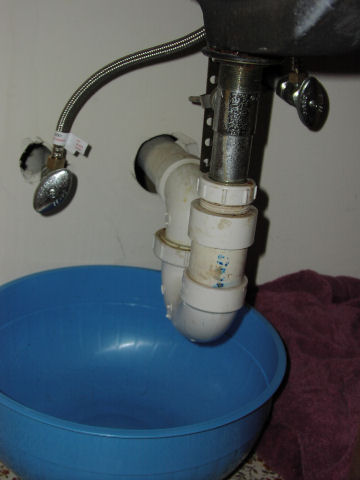 Summary
So far, in my house, I've replaced two entire toilet mechanisms, two bathroom vanity faucets, and one kitchen faucet, shown here: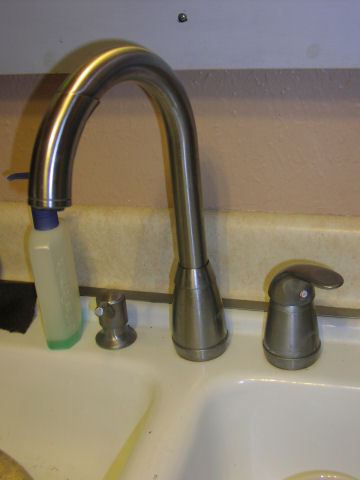 For other newbie do-it-yourselfers out there, the two toilet mechanisms were time-consuming, but not terribly difficult. The kitchen faucet was the priciest item; it tallied up around $179 if I recall correctly.
When it comes to installation, the two Price Pfister faucets (one bathroom, one kitchen) were
by far
the easiest jobs. I doubt that had anything to do with the brand. But I promise that the next time I go faucet shopping, I'll remember my experiences, and probably lean toward Price-Pfister. (Price Pfister carries a lifetime warranty, too, which is nice.)
Rest assured: A home handyman, I am not. So if I can do these sorts of renovations without flooding my house, then anyone can.