You'd think, from watching all the coverage that "holiday living" gets on the news shows, that someone somewhere would talk about the proper way to save for Christmas.
But no. All I see is advice on how to
spend
for Christmas.
In my opinion, the money gurus universally miss the boat here, and I'm not sure why. Not a one of them that I've seen talks about
saving up for Christmas throughout the year.
Even my guy Dave Ramsey, in a cliché-drenched appearance on
Good Morning America
last week, advised GMA's financially-stressed viewership that the proper way to handle Christmas expenses was to "spend cash."
"When you go shopping for Christmas gifts, take along an envelope with cash in it," he said. "When the cash is gone, go home."
Well, yeah. Okay.
The GMA host, of course, gushed at the "Why didn't I think of that?" brilliance of this idea, at its cleverness and — dare I say — mono-syllabic zing. She treated this utterance from Dave as sheer genius.
I, on the other hand, threw up just a little.
For Joe and Jane Sixpack, where, pray tell, will this cash come from?
This whole "spend cash" mantra implies that most people can cash-flow their Christmas expenses simply by allocating some portion of their December income to it. Pardon me for being slightly dubious here, especially when recent surveys suggest that 61 percent of us live
paycheck-to-paycheck
.
I say the cash-flow thing is "implied" because NO ONE specifically refers to the process by which folks could GUARANTEE that they have COLD HARD CASH saved up and ready to cover all their holiday gift-giving needs. I mean, I know it's difficult to turn down offers like this...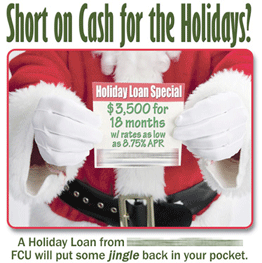 ... so that when Christmas 2010 rolls around, you'll still be six months short of paying for Christmas 2009.
(Wanna guess why the credit union above shows
that
ad rather than one for their "Christmas Club" savings account? Gee, I can't imagine.)
The saving process I'm talking about is what
Mary Hunt
refers to as
Freedom Accounting
. And if you're one of those crazy people who wants to avoid going into debt for Christmas — why do you hate America, anyway? — then it is like gold.
I wrote the following in last year's
Saving for Christmas
post:
Barring some really staggering developments, Christmas is going to happen next year, too, on December 25. If your Christmas, like mine, involves spending money, then you should be preparing for this right now.

Here's what I've figured out: During recent years, my household has spent roughly $1k per year on gifts. This includes Christmas, birthdays, and other incidental gift-giving expenses. Therefore, I've made it an iron-clad habit to set aside $80 per month for just this purpose. (Well, this gets me to $960, which is close enough for our needs.)
That's the secret: Treat your gift-giving as a bill, like any other, and pay yourself for it (i.e., save up) in advance, every month. Keep this money in a separate savings account. Track it in Quicken, or in an Excel spreadsheet like
ExcelGeek's Freedom Account
spreadsheet. Or live on the edge and create your own. Whatever method works for you ... well, do that.
Just do yourself a favor and start saving
now
for Christmas 2010!