Oh, how the dorky stats-grabber in me loves the annual MetLife "American Dream" surveys. The 2009 version can be found here:
MetLife: 2009 MetLife Study of the American Dream
MetLife conducted 2,243 online surveys in the U.S. and came up with the following figures regarding Americans and our financial positions: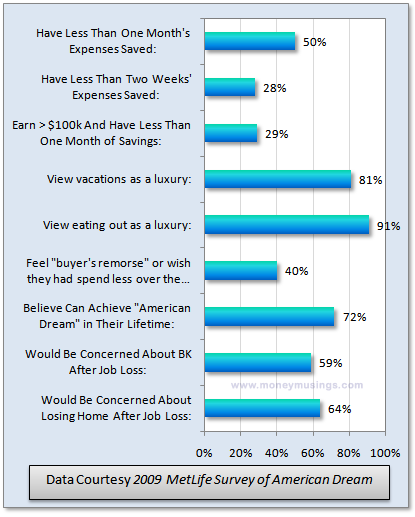 (By they way: Before resizing the graph, the sixth item read: "Feel 'Buyer's Remorse' Or Wish They Had Spent Less Over the Years")
And here's a snippet I found intriguing:
Americans are placing a premium on protection and stability. Across generations, eight in ten say having a personal safety net will be more important this year than last. However, nearly three quarters (74%) of Americans admit to not having an adequate safety net. Currently, Americans count auto insurance (60%), health insurance (57%), life insurance (46%), homeowner's insurance (45%), a retirement savings plan such as a 401(k) (40%), and cash on hand for 3-6 months (35%) as the top six components of their safety net. Among Americans who do not feel they have adequate protection, nearly two-thirds (62%) desire cash on hand for 3-6 months as the product they would most like to have in their safety net.
The MetLife study itself is a 38-page
pdf
, and chock full of graphs for us uber-nerds to peruse. One thing seems evident: The economic crisis is morphing Americans' attitudes regarding their financial safety, and causing them to take a deeper look at just what it is that comprises the "American Dream."
Better late than never, I suppose. Unless, of course, it's already too late.
Labels: Statistics