My previous post covering my
"save money or pay off car loan"
dilemma garnered a lot of great comments from readers. One comment, slapped up here by someone with the moniker of "Reason," went like this:
Sell the car, pay off the loan, and buy a lesser car with the money left over. No more debt. You can keep your savings. And you can start saving up for the next car.
Ah yes ... spoken in true, Dave Ramsey "sell the car" style. To be clear, that's not something I'm going to do. But it got me to thinking: Just how big a hit has my net worth taken thanks to my
purchase of a new Honda
back in late 2005?
Let's start with what price a 2006 Accord SE with 13k miles might fetch from a private buyer in this area. NADA and Kelley Blue Book show me, respectively: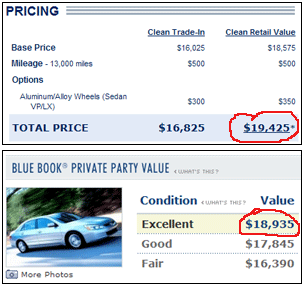 Okay. So I'll "guesstimate" that the car's now worth $18,900 in the private market. Now to do some math, courtesy of
Excel 2007
: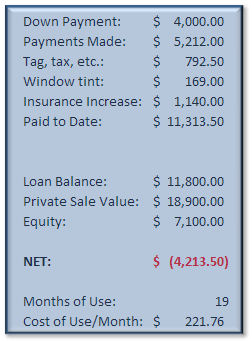 There you go: In the 19 months that we've owned the Accord, it has nicked our net worth by over $4,200. It's worth noting that my interest rate on our auto loan is fixed at a measly 3.95 percent, so while the loan interest is a factor here, it isn't the primary culprit. Given the $221 "cost per month" shown above, interest accounts for less than twenty percent of that amount per month.
What I wish I had done was write down somewhere what I might've paid for, say, a 2004 Honda Accord LX with 30k miles back then. Then I could play with the numbers on that, too, and see how much less it would've cost me over these 19 months. That would make for an interesting comparison.
Labels: Automobiles, Dave Ramsey