Now that my taxes have been done and filed for a couple of weeks, I've taken the lead from a
Fatwallet thread
and calculated my household's (very simple) effective tax rate for 2007. It looked like so: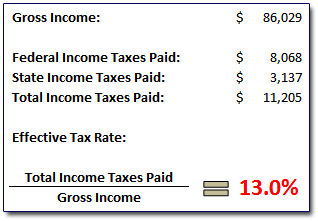 Ours is a three-person (one child; single income) household, by the way.
I'm not including
use tax
in there, or property taxes. Social Security taxes paid at my Day Job are not included. Self-employment taxes on my website income
are
included.
Any readers feel like sharing their effective tax rates?
Labels: Taxes