Review: Quicken 2008 Deluxe for PC
| | | |
| --- | --- | --- |
| Creator/Producer: | | Intuit |
| Date Tested/Software Version: | | January, 2008 |
| Website: | | Quicken.com |
| Retail Price: | | ~$40-$50 (Purchased New) |
Yes, truly, I am hooked on Quicken.
Oh, I've tried other personal-finance software. Some of it is pretty good; some of it sucks rocks. But I always come back to Quicken.
Quicken and I: A Brief History
I got started with Quicken sometime in the mid-1990s. Since Quicken 1998, I've tended to upgrade every two years. Where other users regularly denounce and malign Intuit's upgrade cycle, I've learned to roll with it. The only software I use more often than Quicken is Microsoft Office. And truth be told, I'm quite certain that I rely more on Quicken than I do on MS Office. That's saying something.
What it means, Dear Reader, is that I use the crap out of Quicken.
Is it too much to ask to spend roughly $50 every two years (my personal choice; you could upgrade less often and still be fine) to keep up-to-speed with the best all-around personal-finance software out there? I would suggest that it's not.
For what it's worth: I'm coming to Quicken 2008 Deluxe as an upgrade to my previous version, Quicken 2006 Premier Home & Business. It's possible that some changes that I noticed here actually took place with Quicken's 2007 release ... but I wouldn't know that, because I never used the 2007 version. (As mentioned before, I tend to upgrade every two years.)
What Does It Do?
This version also adds a few nice, but subtle refinements. There's a new feature called My Savings Plan that attempts to make the process of creating a budget more user friendly. It's also a bit easier to categorize your transactions so you can track how much you're spending on things like eating at restaurants and home improvements. Quicken can now handle new types of accounts, such as 529 college savings plans and PayPal.
— Matt Krantz, USA Today [Source]
Quicken, if you're unaware, is a chunk of computer software created by a company called Intuit. It's the most well-known personal-finance software in existence, and has been around since the early 1980s. At its most basic level, Quicken tracks your bank, credit-card, and other financial accounts and transactions. Most versions can track your 401(k), IRAs, and other investments as well.
Can it help you track and monitor your spending? Absolutely.
Can it help you monitor your investments and returns? Yes.
Can it calculate and display your net worth? Yes. Too, too easy.
Can it create a plan and guide you toward becoming debt free? Very much so.
Does it generate financial reports (cash flow, spending, tax-related, and such)? Definitely.
Can it simplify your life at tax time? For sure.
Can it build and update a workable budget for your household? Uhhh ... blech. But more on this later.
A Quick "What's New?" Overview
Here's a PDF, straight from the folks at Intuit, which details all the neat new stuff in Quicken 2008:
What's New in Quicken 2008? (548k)
Those of you who want to know exactly what's changed in the 2008 version will certainly want to download and read that!
The Quicken Landscape
While it seems that Intuit loves to give Quicken users more and more eye candy with every annual revision, the truth is that the Quicken desktop, at its core, hasn't really changed all that much over the years. Sure, it looks fancier now:
But it's still a familiar setup. Your accounts and balances reside on the left sidebar of the screen, while the main area is there to display your account registers, financial reports, or whatever else you're working on.
Accounts in the left sidebar are separated by type:
Cash Flow (Checking, savings, credit-card accounts, etc.)
Investing (Brokerage accounts, 401(k)s, IRAs, etc.)
Property & Debt (Mortgages, auto loans, and other assets and liabilites.)
Personally, I use the heck out of the five tabs at the top of the desktop. By "use the heck out of," what I mean is that the first two tabs — "Home" and "Cash Flow" — keep me up-to-speed with 98 percent of what I need to do with Quicken. And because the "Cash Flow" tab is, in my opinion, the best thing Intuit has done with Quicken in at least six or seven years, we'll start with that.
The Uber-Useful "Cash Flow" Tab
I've ripped and shredded Quicken's budgeting feature so much, I almost feel bad about it.
Almost.
For me, running a household budget with Quicken's budgeting feature (On toolbar: Cash Flow → Budget) has always been an unmitigated disaster. I gave up on it long ago — it's that BAD.
When anyone asks, I tell them they're much better off to fire up a spreadsheeting program of choice and build their own spending plan with that. If you do this on a monthly basis (or even more often), it really isn't difficult at all. Heck — I even make it a point to give readers a free budgeting spreadsheet.
All that's changed with Quicken Deluxe 2008, though. And in a big way!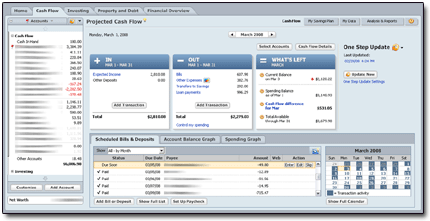 And a close-up of the Cash Flow section:

The Reconciliation Feature
Quicken's ability to help you reconcile accounts (make sure that your transactions and balances in Quicken match up with those on your monthly bank or credit-card statements) is superb. Nothing much has changed here over the years, thankfully. It's an easy, three-step process.
Once you have a bank or card statement in hand, select that same account in Quicken, and then click the RECONCILE button. A small window (called the "Statement Summary") pops up; it asks for beginning- and ending-balance info. It looks like this for credit-card accounts: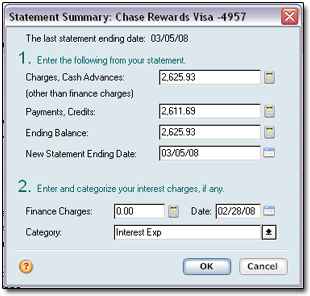 Plug in the required info, click OK, and the fun starts. Quicken lists all unreconciled transactions in your account. You simply match up the transactions in your statement with those in Quicken's window...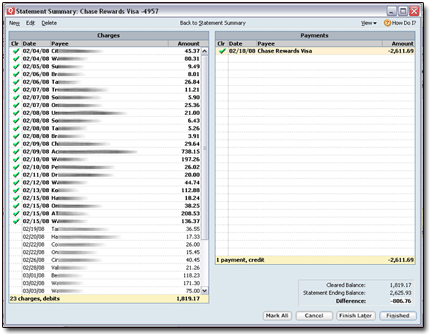 ...and place checkmarks by the Quicken transactions which match those on your statement. If you have transactions that don't quite match, or if you have missing transactions ("Rut ro!"), it's easy to fix or add these from the Reconciliation window.
You'll know when you're done (fully reconciled!) because Quicken's lower-right report tells you so:

Even for those of you who've never done it before, reconciling accounts in Quicken is entirely too easy. And it's vital, in my opinion, to do so. I don't trust banks, credit-card companies, or other financial institutions any more than anyone else!
And yeah — I've been known to make a mistake once or twice myself.
Ahem.
By the Way: I NEVER Download Transactions!
That's right: I enter each and every Quicken transaction by hand. Call me crazy.
Categorizing and Tagging Transactions
We all know about categorizing spending — it's something we do when we want to create spending plans and when we want to be able to see where our money is going. It's a vital and ultra-effective task for those of us who care about spending less than we earn.
Quicken, of course, makes categorizing your spending dead-on easy. Questions like "How much did we spend on groceries last month?" and "What did Christmas cost us last year?" are no-brainers if you're categorizing your income and expenses correctly.
But Intuit has now added a feature called "Tags." Tags, in effect, allow you an additional way to categorize all your transactions. They're very much like keywords for your transactions. They're powerful, too, because they can stretch across categories.
How might tags be useful? Here's an example of how tags make my financial life easier.
In my home state of Oklahoma, the tax laws require residents to pay use tax. Use tax, for readers unfamiliar with it, simply means that when I purchase a couple of Suze Orman books from, say, Amazon.com, and no sales tax is collected by Amazon, then I'm responsible for remitting use tax to Oklahoma in the same amount that I'd have been charged (sales-tax-wise) had I purchased those books in-state.
Since I remit my personal use taxes in one lump sum each year (with my state income-tax return), I need a way to track all the transactions to which use tax would apply. Quicken has always been a lifesaver in this regard. With a couple of clicks, I can generate a Payee Report (image) for the year. It shows me all the folks from whom I've bought stuff without paying sales tax — online businesses mostly — and from there it's a simple matter to figure the use tax on all such purchases. (There other ways to track use tax in Quicken, too!)
Quicken's tagging feature makes even shorter work of all this. Take a look:

The Amazon transaction shows a category of "Loan to Others," which I use when I'm purchasing things on behalf of someone else. I've also given it a tag of "Use-tax Related." I'll enter this tag for all my use-taxable transactions throughout the year.
Next year, when it's tax-filing time, Quicken makes it a snap to tally up all my "Use-tax Related" entries: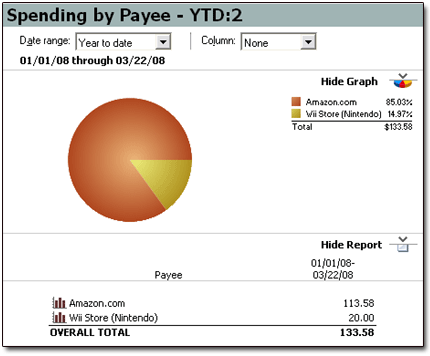 Of Course There's "Feature Bloat"
So many people lament this aspect of Quicken: The year-after-year additions and upgrades to the software have really piled up with what's called "feature bloat." I'll be the first to admit that there are features in Quicken that I never have, and never will, touch.
Summary
There's no doubt in my mind that Quicken Deluxe 2008 is the best version of Quicken I've ever used.
Michael • March, 2008
Buy Quicken Deluxe 2008 At Wal-Mart.com:
Quicken 2008 Deluxe PC
Ratings are on a scale of 1 to 5, with 5 being the top ranking.
value:
Is it worth the money?
adaptability:
Could this work for me over time?
usage:
Is its usage intuitive?
Is it professional in appearance and function?